Air Conditioners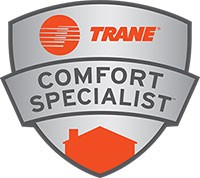 City Suburban knows that when the heat of summer is on us, homeowners in the Oneida and Herkimer county area want an air conditioning system that works, and works well. Our comfort, and health, depend on reliability and even distribution of cooled air. We work with just a few, high-quality air conditioner suppliers. City Suburban is a certified Trane Comfort Specialist for our region.
We know the craftmanship of all our suppliers is top-rated, and like us, they stand behind every product, so you'll have a more comfortable home, and be able to relax and enjoy your summer with fewer problems. Learn about their products and standards at the links here, and find information on specific models in each product area.
Replacing an existing air conditioner with a new one will also lower your energy costs. Many of ours are Energy Star rated—watch for the Energy Star logo and efficiency ratings on the manufacturer's website. Call City Suburban for more information about any product, and financing options are available with approved credit.
---