Radiant heating offers efficient and comfortable heat distribution by allowing floor-mounted heat sources to naturally distribute heat evenly throughout each room. This also reduces the energy normally lost through ducts and baseboards, and offers a healthy alternative to those with severe allergies by reducing the moving air in the heating system. Call City Suburban for more information about any product, and financing options are available with approved credit.
See how radiant heat systems work:
Heat distribution from floor to ceiling closely approaches the ideal. (shown above)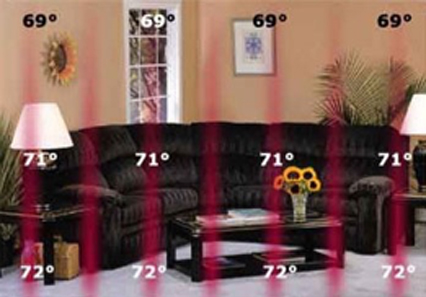 Radiant heat doesn't create the drafts and temperature swings ( as shown below) of conventional forced-air systems, which use moving air to deliver heat to a room.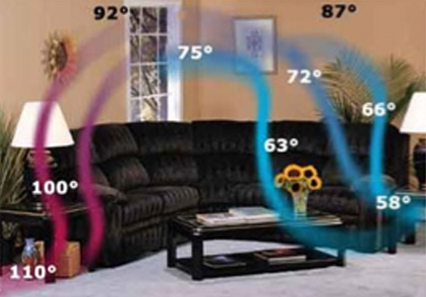 City Suburban offers radiant heating systems from Ultra-Fin and Roth.

Roth, a world leader in hydronic radiant heating systems, has developed a unique concept: The Ultimate Comfort Zone®. This effective heating system combines superior technology with innovative design and high-quality materials. In Roth systems, water runs slowly through noise-absorbing plastic tubing beneath or embedded in flooring materials, held in place with custom forms for worry-free operation.


The Ultra-Fin Radiant Floor Heating System™ is a hydronic heating system designed specifically for wood frame homes and buildings, and works with all floor coverings including hardwood, carpet, tile, and slate. The Ultra-fin system uses tubing to circulate hot water through the under-floor joist spaces, where heat is conducted to louvered aluminum Ultra-Fins attached to the tubing. The Ultra-Fins radiate the heat and warm the air in the joist spaces, creating hot air convection. The heated air warms the floor uniformly and the floor radiates gentle heat throughout the living space above.
---