Ductless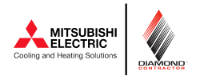 High Energy Costs
Why pay to cool and heat your home all year long when you live in a few rooms at a time? With Mitsubishi Electric, you can actively condition the rooms you live in while dialing back energy costs in the rooms you don't use. Plus, Mitsubishi Electric's INVERTER-driven compressors automatically adjust to changing conditions to deliver ideal comfort while only using the energy that is needed.
INVERTER-driven heating performance is far more efficient and effective than traditional heat pumps
Cooling is up to 40% more efficient than standard systems
Single and multi-zone systems available to fit any room or your entire home
Options include more than 30 ENERGY STAR® certified systems
Hot or Cold Problem Rooms
An American Home Comfort Study (AHCS) reports that 67 percent of homes in the U.S. have a room that's too hot in the summer or too cold in the winter. It's a common problem with ducted forced air systems - on that can be solved quite simply with a Mitsubishi Electric system.
Wireless control unit sense the temperature throughout the room and makes automatic adjustments
Installation is as simple as mounting units, connecting the refrigerant lines and making a few electrical connections
No new ductwork required, so installation is fast and doesn't require any messy renovation
Options for single rooms, multiple rooms or your entire home
Indoor units allow you to create individual comfort zones.
Control the temperature within any space using ductless models including wall-, floor-, and ceiling-mounted options. Ducted options are available for larger or smaller zone conditioning. You can fine-tune your comfort while you save money by cooling or heating only the spaces you use.
Room-by room temperature control
Year-round comfort
Up to 40% more efficient than central air
Whisper-quiet operation
No more hot or cold rooms in your home
Odor and allergen filtration
Turn OFF unoccupied rooms
Remote control technology via kumo cloud® or other smart home devices
---